How to Write a Perfect Pinterest Pin Description
Note: I may earn money or products from the companies, products, or links mentioned in this post.
I have been coaching people on Pinterest for a few years now and have seen a lot over the years. But one of the things I have noticed the most is that people's Pinterest Pin descriptions are not always the greatest.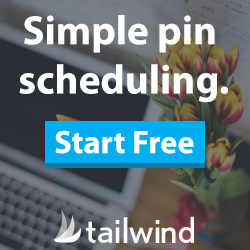 A good description is SO important for getting your pins pinned. I know that a lot of people like to let their image do the talking after all Pinterest is all about images! But I believe a pin description is just as important as the image. It can help with SEO and help give so many reasons as to why people should be pinning your content.
Want to know more? Keep reading below for my three tips for writing a perfect pin description!

Writing a Description for Your Pinterest Pin:
1. What to Include in Your Pinterest Pin Description
When writing a description on your pin you want to include your blog post title or product title, and your description. Now, if you have Rich Pins (which I highly recommend) it will automatically add your title to your pin above the description. However, I still like to add my title to my pin description for SEO. It really is going to be up to you to decide what to do.
In the past, I recommended using hashtags in a Pinterest pin description. Pinterest is now moving away from that, however, and they now tag pins with excessive hashtags as spam. Pinterest does say that if you must use hashtags, only use one and make it something unique. This means don't use your one hashtag as your SEO keyword, use it wisely.

2. How to Write Your Pinterest Pin Description
When writing your Pinterest Pin description, look at your blog post or product. What about your post or product makes it unique? What can you say in a few sentences that will draw people in?
For my pin descriptions, I like to describe the blog post or product. Sometimes I will use a direct quote from my blog post or maybe a short sentence review from a customer about the product. If you decide to use a direct quote, make sure it's short, direct, and to the point. Use it to get people to click or want to read more.
Instead of using hashtags, smoothly add your SEO keywords in your description so that it flows. For example, if your blog post is about marriage, make sure that the word "marriage" is somewhere in your description. You need to be able to write a description that makes people want more, but you also want to include those very important keywords for SEO.
With the new Pinterest algorithm, I was taught to do a general search for the keyword I'm targeting, and then see what Pinterest suggests in its search function. Then I try to include some of those additional keywords in my description, again to increase the chances of popping up in someone's search." – Katie
Another way people like to write their Pinterest Pin descriptions is writing it from the perspective of the would-be pinner. What would someone say about your pin? How delicious was the meal? How encouraging was the topic? Mix things up with this method and see what works for you!
Last, but not least, some people like to include certain taglines to get people to click. Some of these include "Click to read more…" "Don't miss out!" or "Check this post out…" Again it is up to you if you want to add this, but it can help get more clicks and re-pins.
What makes YOU click on a pin or re-pin a pin? Watch how other people describe their pins, and follow their example!
3. Ask Yourself These Questions About Your Pin Description
Before posting your pin, ask yourself these questions to make sure you have included everything for a perfect pin description!
Is the description clear and concise?

You want the pinner to know what the post is about or what the products is or does before even clicking the link or reading the post.
Does it appeal to the senses?

Make your description appeal to your pinner. Use your description to help the pinner imagine the taste of that delicious dinner or use the description to help them feel the softness of your latest DIY project.
Did you use adjectives?

 Make your description sound amazing! Draw people in by using adjectives like "amazing," or "incredible." You can even capitalize these words to make them stand out.
What board or category would you want someone to pin this to?

 Smoothly include this in your description via a keyword or by telling the pinner that it would make a great addition to one of their boards.
What about you? Do think these tips will help you write a better Pinterest Pin description? What do YOU think makes a perfect description?